Cornerstone Co-op Announces New Wainwright Home Centre
Actions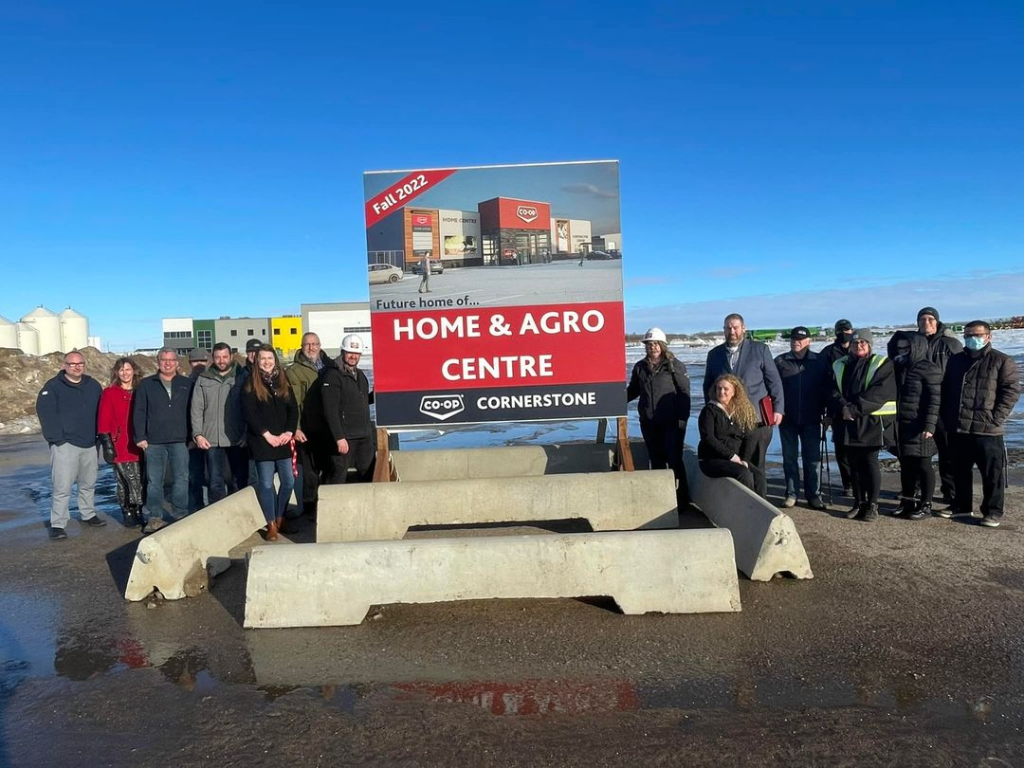 Cornerstone Co-op Announces New Wainwright Home Centre
March 18, 2022
Media Release
February 10th, 2022
The Wait is Over - Cornerstone Co-op Announces New Home Centre in Wainwright
The Purpose Statement of your Cornerstone Co-op is to Make Life Better in our Communities.
Cornerstone Co-op is pleased to announce the development of a new state of the art Home & Agro Centre in Wainwright. This world class facility aligns with their mission of Proudly Delivering Outstanding Co-op Experiences and will position Cornerstone to be relevant with owners for generations to come in Wainwright and area.
The original Wainwright Home Centre was built in the early 1960's and while there have been three renovations, the structure is nearly 60 years old and well beyond its end of life. "We have looked at several different options to effectively upgrade our current home centre, however spending millions to upgrade our building just to be safer and meet code, and our customers would not notice any improvements, is not sustainable, or responsible to our members, nor beneficial to the future of our Co-op" said Co-op Facilities Manager, Dan Bojarski. "Over the past 20 years our Home Centre needs have evolved and outgrown our current location. The new building will give us that much needed retail space to continue being leaders in retailing products and services in Northeast Alberta. Our Co-op customers and members deserve the best after their patient and loyal support over the years" said Rhonda Cook, Home Centre Manager.
This $8.5 million dollar investment is scheduled to start early March with a completion date of October 2022. The New Home & Ag Centre will double in square footage, have sufficient room for displays and seasonal merchandising, a contractor entrance, expanded agriculture lines and a new 10,000 sq ft drive through storage building. The new home building store will be located just north of the Co-op food store and will complete the "one stop shop" of all Co-op product lines conveniently located at one "Hub" location. "It is great to see our local Co-op able to invest in our community with an upgrade of this magnitude. For anyone doing business at the present location, I am sure there would be agreement that the time was due, or perhaps past due for this investment. This will be a great boost to the member owners of the Cooperative, and in fact, to the community as a whole" said Vice President of the Board of Directors, Keith Brower. "As a local contractor, I am very excited to have access to better parking, storage and selection of in-store products," says Mike Bond of Bond Construction Services. "The new Home Centre will create new jobs and employment opportunities, including several local tradespeople who will be working with our general contractor on this construction project," said Graham Getz.
Cornerstone Co-op is locally invested, owned and has been serving their customers and members in Wainwright since 1944. Over the past 4 years, Cornerstone Co-op has given back over $9 million in equity and cashback to its owners. Since 2008, over $20M has been invested in world class Co-op facilities in the Wainwright community.
For more information see our Frequently Asked Questions on our website or contact the Wainwright Home Centre team at 780-842-4181.