#Mondaymotivation: Keeping Mental Health Top of Mind
Actions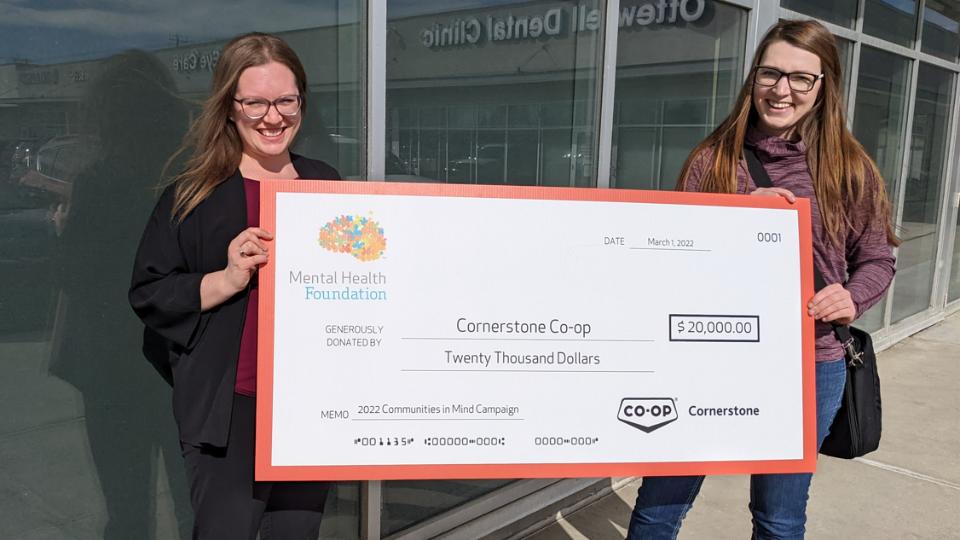 #Mondaymotivation: Keeping Mental Health Top of Mind
May 2, 2022
Mental health disorders are real illnesses that often cause people to suffer silently. And, unfortunately, there is still a stigma associated with them. However, having discussions and raising awareness around mental health are the first steps to combating the stigma.
In 2021, Cornerstone Co-op recognized the struggles communities were facing around mental health and addiction and partnered with the Alberta Mental Health Foundation (AMHF) to launch a new Campaign known as Communities in Mind. Throughout the Month of February, community members had the opportunity to purchase a branded paper heart at each check-out and write a heart-felt message which was then displayed in each of our Cornerstone locations. Cornerstone's Communities in Mind Campaign raised $18,000 in 2021, and this year, together, all 8 communities raised $20,000.
"This is a huge accomplishment for our local communities," said Jordyn Prior, Marketing & Community Engagement Manager of Cornerstone Co-op. "Partnering with the AMHF allows us to make an important impact by helping those who need it most. We can't thank our owners, customers, and team members enough for all the support they've given to this campaign to help make life better in our communities."
All funds raised will be distributed back to Cornerstone's communities in the form of "The Little Things Fund" where local groups and organizations can easily apply and access support through their Alberta Health Services facilitators.
In addition to fundraising, Cornerstone also launched a digital initiative known as "Cornerstone's Unplugged" during Family Day weekend to encourage their teams, customers and other local Co-op's to unplug from their social media platforms and digital devices.
"Our #Unplugged Campaign was an idea that was brought forward by our Brand Committee and is a movement that rapidly created positive buy-in from our team members and Senior Leadership team," said General Manager, Graham Getz. "It was a unique idea that allowed our teams to slow and connect during fast paced and demanding times. We encourage other Co-ops to participate with us in this movement in 2023."
Calling on all Alberta Co-ops!
As Cornerstone prepares for their 2023 Communities in Mind Campaign, they'd like to extend an invitation to other local Alberta Co-ops that would like to partner on the initiative. Those that are interested in partnering are encouraged to reach out to Jordyn Prior via email before June 1st: jordyn.prior@cornerstone.crs.