REMEMBER YOUR REUSABLE BAGS
Actions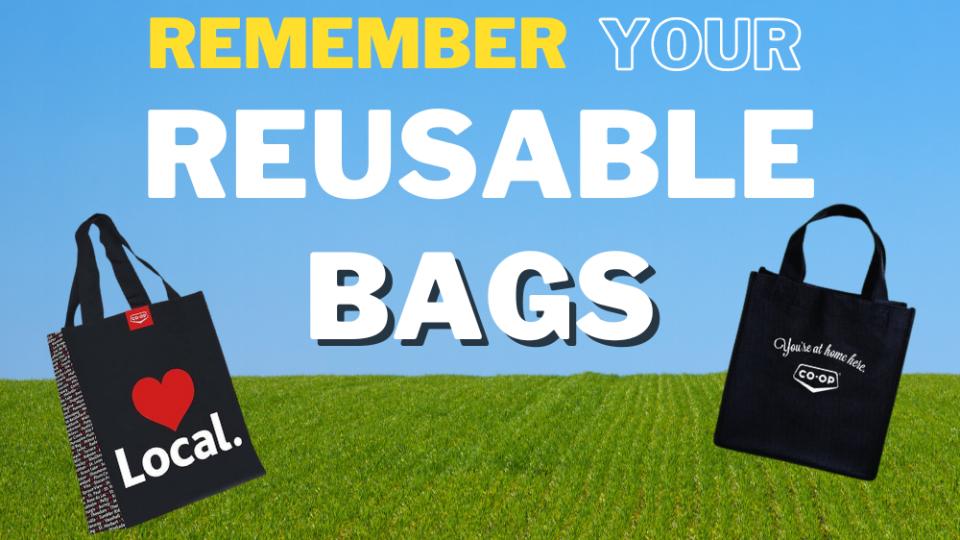 REMEMBER YOUR REUSABLE BAGS
October 4, 2022
Phasing Out Single Use Plastic Bags
As part of government legislation, we will be preparing to phase out single-use plastic check bags at all their locations this fall. Starting October 24th, plastic bags will no longer be available at the twenty-four Cornerstone Co-op locations. Please find the full media release attached at the bottom of this web page.

"We began this journey back in 2019 when we started encouraging reuse by charging 5 cents per plastic grocery bag and donating 3 cents back towards our Bags for Breakfast Program for every reusable bag a member brought and utilized at our food stores," said Kory Kralkay, Director of Operations. "The idea was that by bridging recycling with our schools breakfast programs, we can help reduce the collective impact on the environment while increasing our impact on students through nutrition."
We will continue to allocate donations towards their Bags for Breakfast Program but instead of donating 3 cents from each reusable bag used in store by their owners, 10 cents from every reusable bag purchased will be donated back to nutrition programs in our local schools. Since 2017, over $150,000 has been directed to schools for initiatives that establish and enhance breakfast and lunch programs for students.
FAQs
Q: Why should plastic bags be eliminated.
A: The federal Government has mandated that plastic checkout can not be manufactured or imported for sale in Canada after December 20, 2022 and will not be able to be sold in Canada after December 20, 2023. This is due to the fact that Plastic bags are not biodegradable: When plastics bags become litter, they pollute oceans, rivers, farmlands, cities, and neighborhoods. Bans eliminate bags, which equals less litter and less pollution.
Q: Why not switch to paper bags as an eco-friendly alternative?
A: Paper bags are recyclable, but paper is very resource-heavy to produce. Manufacturing a paper bag takes about four times as much energy as it takes to produce a plastic bag, plus use harmful chemicals in production. Studies have shown that, for a paper bag to neutralize its environmental impact compared to plastic, it would have to be used anywhere from three to 43 times.
Q: Will you still offer paper bags?
A: Yes. Although we are eliminating plastic bags, we will have paper bags available (as a backup) for 15 cents/bag. Cornerstone Co-op still strongly encourages customers to bring in their reusable bags.
Q: Are you still going to have bags for fresh produce?
A: Yes. However, we encourage that customers switch to our special reusable Co-op Gold Mesh Produce Bags. These reusable produce bags have been made specifically to work with our weight scales at our checkouts. You can purchase these at our food stores.
Q: Will there be bags for my online grocery order?
A: No. Our Click & Collect team members will still bring out your order when you arrive and assist you in placing your items in your vehicle. If you have reusable bags, please let our Click & Collect team member know when you arrive curbside.
Q: I see other single-use plastics and disposables at your food stores. What will you be doing next?
A: Federated Co-operatives Ltd. has signed on to the Canadian Plastics Pact (CPP) on behalf of the Co-operative Retailing System, which includes Cornerstone Co-op. By signing the Pact, the CRS is committing to four targets by 2025:
· Define problematic or unnecessary plastic packaging and create a strategy to eliminate
· 100% of plastic packaging to be reusable, recyclable, or compostable
· 50% of packaging is recycled or composted
· 30% recycled content across all packaging
While these targets may seem ambitious, we are not starting from scratch. In 2019, a cross-commodity working group was formed to source alternative packaging options for the CRS.
Q: I use the grocery bags I get at your stores to dispose of my pet's waste, and now I'll have to buy more plastic bags, so what is the point?
A: Taking a single-use plastic bag and turning it into a "double"-use plastic bag is still not an ideal option because the bag still ends up in the landfill and it takes hundreds of years to decompose.
Q: Why did Cornerstone decide to eliminate bags now?
A: Cornerstone has been looking at removing plastics bags since the beginning of the year. There were some factors that made it difficult for us to do it quickly. The biggest is the fact that we use the cost saving of reusable bags to fund our Bags for Breakfast program and needed an alternative to fund the program. ($0.03 saving from each plastic bag not used was donated to bags for breakfast).
Q: What is happening to Bags for Breakfast?
A: As of Oct 24th, the sale of each Reusable bag or container designed to replace check stand bags will generate a $0.10 donation to the Bags for Breakfast program. This will include the plastic totes and many varieties of reusable bags.
*fun fact: Every reusable bag used regularly for one year will divert up to 500 plastic bags from the landfill.